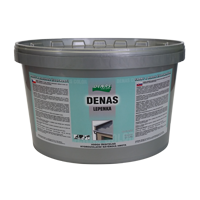 Product description DENAS Lepenka
Water-thinnable waterproofing pain
Použití:
The paint is intended to protect sprayed polyurethane foams from UV radiationand atmospheric effects in roof and facade structures, protective and refurbishment roof paints with the surface based onbitumen felts not exceeding anarea of 1500 m2. After drying, the applied substance forms an elastic foil with perfect adhesion to the substrate.
It features very good adhesive strength to polyurethane foams and asphalt as well as silicate substrates.
The paints feature high resistance to the effects of water, UV radiation, temperature fluctuations and resistance to alkaline hydrolysis. The elastic properties remain even at minus temperatures and they are capable oftransmittingthe stress resulting from the linear changes and coveringpossible cracks in the substrate.
It is suitable mainly for the refurbishment of old roof coatings.
Properties:
Density: 1,25 - 1,5 g/cm3
Weight dry basis: 60-68 %
pH: 8 - 10
Volume dry basis: 45-55 %
The colour is highly resistant to UV radiation and other environmental factors.
| | |
| --- | --- |
| Application Layer: | Top covering paint |
| Application method: | |
| Chemical classification: | Soluble in water |
| Area of roofs: | |
| Working process: | The mixture should be applied to the substrate at least in 2 layers with a time lag of 24 hours. For demanding applications in repairs to bitumen felt roof structures, the use of grid fabrics reinforcement and anincrease inthenumber of coatings are recommended. |
| Intensity: | Maintenance coatings 0.3 -0.5 kg/m2, polyurethane foam coatings 0.7 -1 kg/m2, for reinforced bitumen felt substrates 1.5 -2 kg/m2 |
| Surface: | The substrate must be dry and free from mechanical and greasy impurities. Bitumen felt substrates and other absorbent substrates should be impregnated with PRIMER B. |
| Storage: | Store in original, well-closed containers in cool, dry and well-ventilated areas atatemperature from +5 to +25 °C. Protect from freezing. Keep the mixture separated from drinks, foodstuff, feedstuff and medicine. Store away from the reach of children. The shelf lifeis aminimumof12 months from the date of manufacture. The product must not freeze. |
| Packaging: | Plastic container of 1.5 -45 kg or galvanized barrels of 200 -250 kg |
| Safety and hygiene: | Observe the principles of personal hygiene. Ensure good ventilation of the workplace. During application, wear respiratory protection. If ontheskin, wash the affected areas withsoap and water. If intheeyes: rinse with water. If swallowed, rinse mouth with water, do not induce vomiting. In case of health difficulties, seek medical attention. |
| Waste disposal: | Product residues and contaminated packaging shall be disposed of as hazardous waste in accordance with the applicable regulations. |
Files for downloading